Smart Insurance Card :
The new normal of Vehicle Insurance
Introduction
Having an insurance premium is a strict government rule for all the vehicles. It has been practiced for a long time and the way we do it hasn't evolved so far. Along with the driving license and tax payment receipt we carry our insurance premium cards everywhere we go in our vehicle. Renewing vehicle insurance every annum is a mandatory but mundane task to do. The customer has to physically visit the insurance company to get the new insurance card after paying the premium. If he/she owns more than one vehicle then he/she has to visit more than once and carry around more than one physical insurance card. In situations like having a rarely used vehicle, paying the insurance premium and keeping it parked at most of the times is an unfair game we all play without realizing. Forced to understand the need to change and to do things we do normally in an optimized way has become the new normal of our life. You should be able to see above, a lot of manually done tasks which could be transformed into digitized processes are there.
Business Case
Getting the emission test done, paying the insurance premium for the next year and paying the tax are hefty tasks which would take nearly a day to finish. The main reason for it is almost all the things are done manually at the user end even though digital systems are introduced at the serving end. When we own more than one vehicle we may have to repeat the above same tasks in various days. If we own a vehicle which we use in times of occasions or for any special purposes, we may not have realized that we are paying the insurance premiums even if the vehicle is not on street for more than half-an-year. This may seem unfair and unacceptable. Only having the annual renewal option would be unfair to have as customers. Everytime we travel in the vehicle, we have to possess the physical insurance card with us and have to show it to the police in case of a routing check, since it's a law in the country to carry the vehicle insurance card. In a situation like this current pandemic, visiting every place manually to get things done is a frightening thing to do. For the safety of us and to adopt the quickly changing future, we need to do things differently for the betterment of us and for everyone.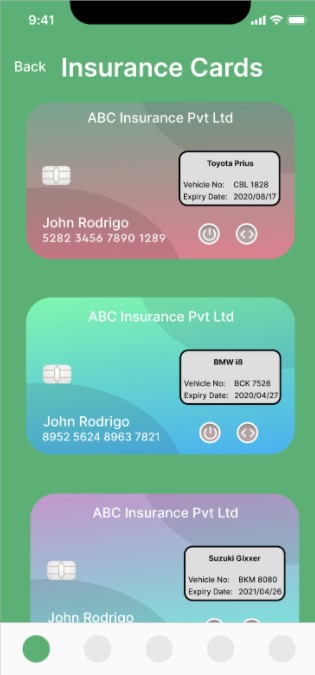 Solution
Introducing a Smart Insurance Card with a digital display and connectable with the Insurance mobile app would be an ideal solution for the new normal. The Smart Insurance Card will have a lifetime of 5 to 6 years without recharging.
Action Taken
The user will be able to pay insurance premiums through his insurance mobile app by choosing from various renewal options such as annual / monthly / weekly or even for a certain period of time at-least for just one day. Once the premium is paid via mobile app, the smart insurance card can be connected with the mobile via low energy bluetooth technology which is more effective and performs a less energy consumption. Once the card is connected, the up to date information will be synced to the card. In the e-ink display the user will be able to see the vehicle number, insurance validity date, name of the owner and all the other necessary details. In case of owning multiple vehicles the user will be able to swipe through the insurance premium details with the just touch of a button in the smart insurance card. Since you have to keep a physical insurance card with you, you don't need to worry and keep this smart insurance card with you wherever you go with your vehicle. You only need to renew the physical smart insurance card once in 5 years which is a really good deal. The insurance mobile app extends more crucial features such as auto-renewal option, claiming insurance through mobile app in case of any incidents, calling emergency services, sharing the GPS location with Insurance agents and emergency services and etc.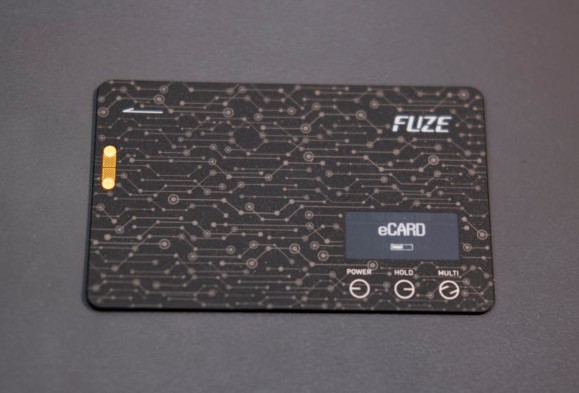 Results
As you can see, it tremendously reduces the time we spend renewing the typical insurance card and increases the chances of our safety by carrying out things digitally. It also provides fair options for renewal according to our usage. A big relief from annual insurance premium payments which always felt like unfair to pay for what we use. All the essential insurance services you need are just a few taps away and everything is stored in your Smart Insurance Card. This almost ensures that it makes it nearly impossible to forge insurance cards and increases the credibility of the user and the system. You will feel much safer, convenient and treated fairly and truly it will give you a new charming experience as you can see the system is designed to serve customers at the best of their comfort and safety while still abiding all the rules and regulations. A digitized solution for all typical ways of using insurance services is now possible by using a Smart Insurance Card.