IoT integration is the future of ERP companies
Are you an ERP solution provider? How you are different from your competitors? Enterprise Resource Planing (ERP) integrates all the processes that needed to run a company into a single system. This includes manufacturing, HR, finance, supply chain, services, procurement, etc. Majorities of enterprises have adopted the ERP solution and this has created a 'Red ocean'.
As ERP has been over-crowded, now, it's time to evolve and open up new opportunities.
Currently, Internet of Things (IoT) is the most exciting segment in the tech world and only one segment which can integrate with ERP and take ERP to the next level.
IoT influence organizations to collect data effectively. With sensors, devices and cameras embedded in products, companies get whole information of product from production to until it reaches the hands of customers. Here, the link is 'Data'. This data connects both IoT and ERP. So, it's important to integrate ERP with IoT.
How does the future look like for ERP after the integration of IoT?
The integration will help companies to operate more efficiently by reducing the potential for human errors. No human effort is needed to input the data (manually) into the ERP system. With IoT, all activities can be tracked and automatically updated into your system in real-time. This continuous data stream from IoT sensors and devices enables businesses to perform real-time analysis, helping them to improve decision making while providing actionable insights. These actionable insights from IoT data have the potential to transform your performance from a reactive to a proactive approach.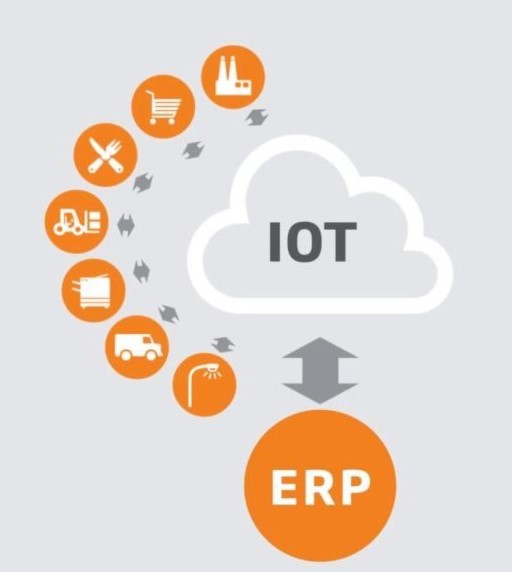 IoT solutions can send warn notifications to those who are responsible when assets need attention like breakdowns, repairs, damage or theft. The IoT and its wireless connections give secure to the data across an entire value chain. Integration of IoT with ERP, gives you a competitive advantage.
Through merging IoT and ERP, companies can revolutionize their business by making it more efficient and profitable while leading to operational excellence. The Internet of Things (IoT) is entirely changing the world. So, implementation of IoT can change the game of many industries.
We, SenzMate (Pvt) Ltd integrate our technology with your company (ERP) to serve more.
Let's create a new trend.