Trees know better! Just Listen to them!
Trees are not just for aesthetics. They play major roll in climate-proofing: they cool the air, improve physical and mental health, improve environmental quality by reducing CO2 in the atmosphere, slow and filter polluted runoff, reduce flooding and soil erosion, increase property values by 10–20%, help lower crime rates in communities, reduce temperatures and the urban heat Island effect and much more.
Because of climate change, we are experiencing more extreme weather conditions, and this can drastically shorten the lives of trees. World should look for innovative solutions that enable the trees themselves to 'express their needs' so that ultimately we can provide customized care to individual trees. The aim is to enable trees to grow bigger and older, so they're more attractive and more valuable to the city.
How can we make the trees themselves heatproof ?
What about giving voice to the trees………..?
Have you heard about crow sourced methodology which is one of the best problem solving technology that requires help from crowd(network of people)?
As European countries are moving towards a sustainable future, it's the duty of government to take care of all the trees in cities.
We, SenzMate are a small but mighty community of growers, innovators, engineers from around the globe. We are Climate activist for the 21st century and believe in our collective potential to improve plant, people and planetary health.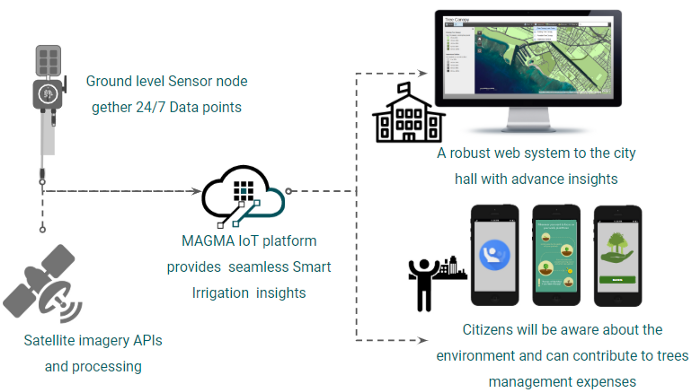 Our aim is to introduce efficient ways to tree canopy management, integrating block chain technology, enable crowd-sourcing and crowdfunding.
We introduce a combined technology of ground sensors, Ambient sensors, weather data, satellite Imagery API, advanced IOT platform, data analytics and user layer applications. These technologies make real-time Insights for Urban tree canopy assessment like never before.
This is a complete approach to plantation management with scientific quality measurements using IoT designs.
Let the sensors and software do the magic.